The man who invented what we commonly refer to now as "the bodycon dress" died today, November 18, 2017, and the fashion world is deeply in mourning at the sudden loss of one of its greatest denizens, tailors and conceptualizers. The hallmarks of Azzedine Alaia, the Tunisian designer who did his greatest work in Paris, never ever changed: he used a heavyweight stretch knit viscose jersey fabric unique to him, that had weight and texture – and out of that, built dresses, skirts, jackets, gowns that clung to the body in a way that flattered almost every figure. He was also  known for doing leather cut leather handbags, shoes and jackets – at a very high price point – but were worth the investment because none of his pieces of clothing or accessories ever aged out – they never went out of style, and they never looked any older than the day you bought them. There's no other designer in history you could say that about.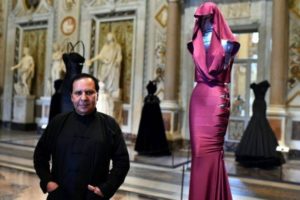 Alaia was particularly known for his cutting and his shapes. That's because he studied sculpture at the Institut Superieur des Beaux Arts in Tunis, where he grew up. He made a few dresses for private clients, which proved successful because they were so sculptural themselves – then moved to Paris in the late fifties, where he worked for great French houses: Christian Dior, Guy Laroche and Thierry Mugler.
Alaia launched his own ready to wear business in 1980, and immediately got editorial spreads in important magazines like French Elle and Depeche Mode. He kept his business small, though, and mostly had his own boutiques. By the mid eighties, though, women in New York and Los Angeles started buying the Alaia bodycon dresses – which spawned a million imitations due to their prices. Still, nothing could even begin to emulate the fit of the original. Azzedine boutiques in L.A. and New York could even the clothes in stock, they were so popular with supermodels, actresses and anyone who spent a lot of time at the gym and had "sexy" as a byproduct.
One of the great things about owning Azzedine dresses or skirts is that they were seasonless. He almost exclusive worked in solid black or red or cream – rarely venturing into tiny stripes – and was also known for skirts and dresses with great pleating.
His roster of impressive loyal celebrity clients included Michell Obama, Madonna, Lady Gaga, Grace Jones, Naomi Campbell, Nicole Kidman, Marion Cotillard and Victoria Beckham. He also made couture clothes for private clients, and showed outside all the fashion calendars, drawing fashion editors from all over the world when he did.
Another hallmark of Azzedine Alaia: he rarely did interviews, didn't go to parties, didn't pander to celebrities, didn't bother with the red carpet, and barely ever had a publicist. Now that's real height of French fashion.
The New York Times reports that Mr. Alaia died of a heart attack.