Edie Sedgwick was the very first woman to be hailed as an "It Girl" – as part of Andy Warhol's underground hangers-on and Max's Kansas City regulars in the New York of the mid-sixties. The blonde big-eyed waif – sort of an American Twiggy, as she was a model and actress – donned heavy black eyeliner and black tights, and definitely had the look that defined the decade.
Sedgwick hailed from Santa Barbara California, and was born into wealth and social status, that she clearly cast off once she broke into Warhol's films – hanging out with the New York demi monde, and eventually OD'ing on drugs. After she fell out with Warhol and The Factor, Sedgwick hooked up with Bob Dylan, who tried to develop a full length film for her before she died.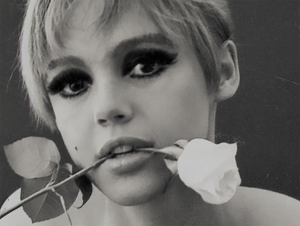 We also lost, on November 15, entertainment publicist Ronni Chasen, who was murdered during a robbery by a homeless man in 2010 on her way back from a movie premier – and Clark Gable, who died at the unfortunate age of 59 from an arterial blood clot in 1960.