In honor of the Day of the Dead, today's O-Bits takes a look at morticians in the news:
Willie Watkins is a mortician with ambition: The Atlanta-based funeral director wants to "bury everybody." He's not quite there yet, but according to Atlanta Magazine, he's now "the go-to undertaker for Atlanta's black elite." He's made his bones, so to speak, by staging funerals filled with pomp and lavish details, including a horse-drawn 18th-century carriage, white-gloved pall bearers, and the funeral home itself, a former mansion owned by a Confederate general.
In Berks County, PA,  county coroner is an elected office, and there's a lively race this year to fill it. The incumbent, Democrat Dennis Hess, is running on a platform of "if it ain't broke, don't fix it." The challenger, James Wilson, argues the office could use some fresh blood, and says he could trim the budget by $100,000 while modernizing the facilities. In what has to be considered a model of political restraint, no one has accused him of using "voodoo economics."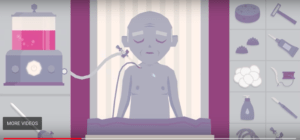 The Berkshire Eagle profiles Fred Dery, a third-generation mortician, whose family has been serving the Pittsfield, Massachusetts for more than 80 years. While he is soul of discretion when talking about his adventures in the death trade, he wants his own burial to be a celebration of life. "If people aren't going to sing at my funeral," he says,  "they shouldn't be there."
You ever wanted to see what it would be like to work in a mortuary, but not sure if you could cut it? Laundry Bear Games has you covered with A Mortician's Tale.  It's a "death positive" game where you take the role of Charlie, the new hire at a funeral home. As you play the game, you learn the ropes of the business, from preparing the bodies for burial or cremation, attend the funerals and provide a sympathetic  ear to loved ones, and deal with the other workers at mortuary.