First, the good news. Walmart has decided to stop selling a t-shirt that advocated the lynching of journalists. The bad news? That a major American retailer thought it was a good idea to sell t-shirts advocating the lynching of journalists in the first place. Maybe, as  journalists ourselves, we take this story a little personally. But we think everyone can agree that nothing good ever came out of the hanging of a journalist…Mussolini excepted. We'll give you Mussolini.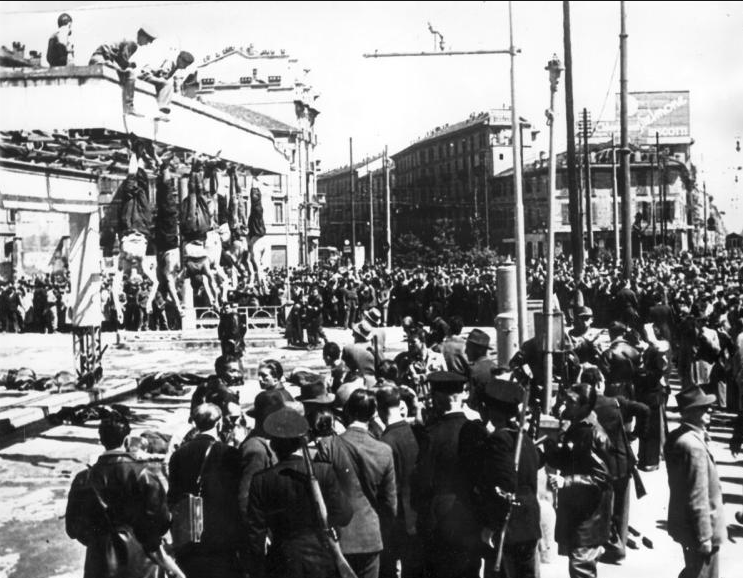 We're just as willing to argue for saving the hide of the hackiest Breitbart journalist as we are our for our own hides. Which means, yes, we're being  generous in our definition of "journalist" here.  We're so generous in our assessment of who's covered here, that we'll include Ann Coulter and Laura Ingraham. Hell, even Sebastian v. Gorka, a sniveling, preening troll currently playing Blofeld in Sean Hannity: Presidential Proctologist's stock company of Trump apologists, is protected.
And Walmart would have gone on selling "Rope. Tree. Journalist. Some Assembly Required" t-shirts if not for a letter from the Radio Television Digital News Association that was rather unemphatic in their complaint. "As a fierce proponent of the First Amendment that is politically nonpartisan, we recognize Walmart's right to sell the T-Shirts, and the right of consumers to purchase and wear them," The Hill quoted group's executive director Dan Shelley. "However, just because Walmart has the right to sell the shirts, that doesn't mean it is the right thing to do." Walmart's reply felt just as lawyer-massaged: "This item was sold by a third-party seller on our marketplace and clearly violates our policy. We removed it as soon as it was brought to our attention, and are conducting a thorough review of the seller's assortment."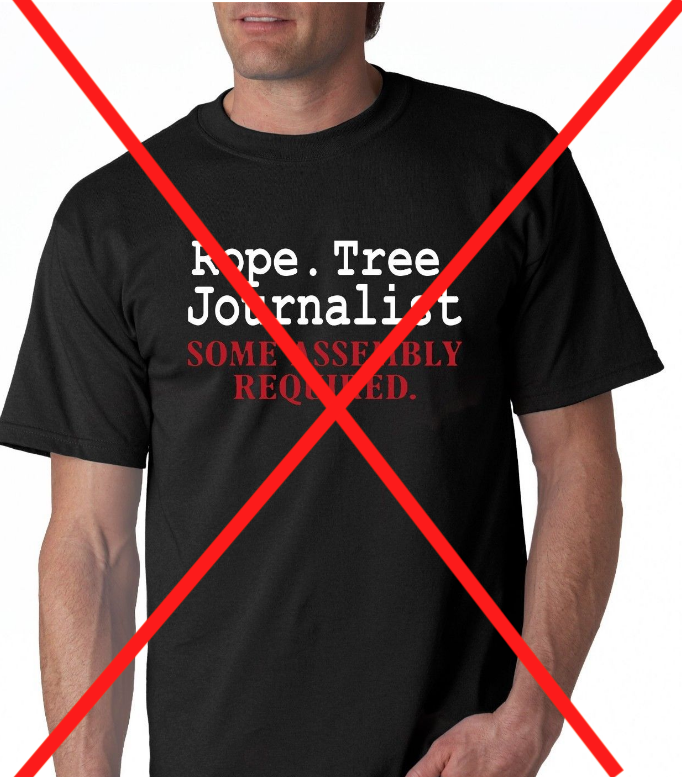 Now, Walmart seems to be doing a pretty good job policing left-leaning merchandise in their "marketplace." The closest thing one finds to the "Resistance" on Walmart's website is "The Resistance" young adult board game. In a search of "Trump" merchandise, the most controversial shirt may be "We Shall Overcomb."  And the problem is not just Walmart. When Donald Trump, our reality show strongman, the modern-day Il Douché, calls reporting he doesn't like "Fake News" and tweets about the "failing" New York Times or punches out CNN on his Twitter feed, he makes hostility to news media a policy of the  Federal Government. And somewhere in Bentonville, a Walmart employee snickered at the shirt and let it go through. And if felt you needed to do more, while you were picking up this shirt, why not check out that brand new rifle, to an audience that's been brainwashed into thinking their Second Amendment rights trump our First.