Harvey Milk was a member of the San Francisco Board of Supervisors and the first openly gay resident of California to be elected to public office. He didn't enter politics till he was 40 – and in eight short years, became an outspoken national leader of the lesbian, gay, bisexual and transgender civil rights movement. Tragedy struck in 1978, when Milk was shockingly murdered by a former fellow supervisor. So instead of a life fighting for civil rights for all, Harvey Milk became a martyr for the LGBT community.
Milk is all the more compelling when you think that being gay in the mid-70's was thought to be a mental illness  – and was, in some states, even a criminal activity. Of course, he was brilliantly portrayed by Sean Penn in the 2008 Gus Van Sant-directed film "Milk."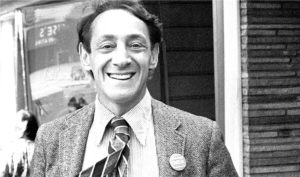 Also passing on November 27 in history was Nobel prize winning American playwright Eugene O'Neill, whose plays include "Anna Christie," "Strange Interlude," "Long Days Journey Into Night" and "The Iceman Cometh;" he died at 65. After having suffered depression and alcoholism much of his life, O'Neill drew much of his material from his own life. He died in Room 401 of the Sheraton Hotel in Boston – and uttered a line as he lay dying which could have been straight out of one of his plays: "I knew it. I knew it. Born in a hotel room and died in a hotel room." British crime author P.D. James also died on this day in 2014; she was 94.