This is ObitMagazine.com. Obituaries are our business. Obituaries, in the hierarchy of the media, are meant to be objective. Impartial, biographical, factual. This isn't going to be one those. The grotesque murderer Charles Manson died today, November 19, 2017.  He was the leader of the notorious Manson "family" cult that murdered the actress – the pregnant actress – Sharon Tate and six other people up in the Hollywood Hills on Cielo Drive in 1969. Manson and lunatic followers Patricia Krenwinkel, Susan Atkins and Leslie Van Houten all stood trial for murder. A fourth Manson follower who was present at the murders, Linda Kasabian, was indicted with the others, but turned state's evidence and was granted immunity in exchange for her testimony.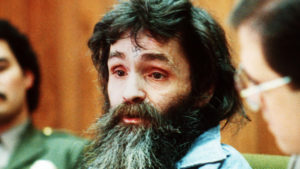 Manson died in a Bakersfield, California of natural causes – far far far greater than he deserved. We doubt there's a wet eye in the world over this heinous excuse for a human. And human is a much better word than he deserves.
While Manson didn't commit the Tate and LaBlanca murders himself, he was the so-called "mastermind" of what he called his "family" – or followers. With followers in tow – clearly as crazy as he was –  Manson, who tried to delve into the Hollywood music scene,  launched a killing spree in 1969 with the goal of a sparking a race war he called "Helter Skelter," based on his interpretation of a song from the Beatles' "White Album."
On Aug. 9, 1969, he directed his followers to kill the 26-year-old actress Sharon Tate ("Valley of the Dolls"— who was pregnant and married to director Roman Polanski — and four others at the home she was renting in the Benedict Canyon area of Los Angeles.
The other victims were celebrity hair stylist Jay Sebring, 35 (one of the men Warren Beatty's character in "Shampoo" was based on); Voytek Frykowski, 32; coffee heiress Abigail Folger, 25; and Steven Parent, 18, a friend of Tate's caretaker. The word "Pig" was written on the front door in blood. Of course, not only did it shock Hollywood – the ugliness of the murders shocked the entire world.  They took place in an upscale safe neighborhood, and one of the victims was a famous beautiful actress, married to an even more famous man. Right after Manson and three of the followers received the death penalty, California ruled the death penalty unconstitutional and the sentences were changed to life in prison – with the possibility of parole. Unfortunate: because no one's ever deserved the death penalty more. However, at least Manson was denied parole nine times. Thank God.
Tate's husband Roman Polanski was out of the country at the time of the Cielo Drive killings. The aftermath of the murders is said to be what drove him to a life of drugs and alcohol for a number of years – his behavior at Jack Nicholson's Hollywood Hills house when Polanski had sex with an underage girl (for which he fled America for the rest of his life) is said to be traced back to his shock and breakdown over the murder of his pregnant wife and her friends.
Manson was what you'd call a career criminal – by age 32 he'd also spent half his life behind bars.  Though he didn't commit the Tate/LaBianca murders himself – his lunatic female followers did that – he had committed other murders before, but hadn't been caught.  The Los Angeles Country Corrections Department said "On December 13, 1971, Manson received a first-degree murder conviction for the July 25, 1969, death of Gary Hinman and another first-degree murder conviction for the August 1969 death of Donald Shea."
Vincent Bugliosi, the prosecutor in the Manson trial, wrote first hand about the case in a book called "Helter Skelter." "Helter-Skelter," the 1968 Beatles song, had words that Manson imagined egged him on: "Look out helter skelter, helter skelter, helter skelter. She's coming down fast. Yes she is. Yes she is." Manson's perverted theory was that the black man was going to rise up and start killing the whites and turn cities into an inferno of racial revenge. He contrived that the black man would win that war, but couldn't hold onto the power because of innate inferiority. Manson and his cult would be safe from the racial holocaust because they would be hiding in the desert, safe from the racial wars in the cities. Why this invoked him to kill Sharon Tate and her friends specifically – who knows? Maybe so he'd get more publicity?
Bugliosi had said that "the Manson murder case, unlike any other mass murder case in history, continues to fascinate to this very, very day. It never stops. People want to ask questions about it.
And up until the day he died, Manson continued to receive more mail than any other inmate in the history of the U.S. prison system. Quentin Tarantino's next movie, which will be distributed by SONY after the Harvey Weinstein scandal (Weinstein distributed all of Tarantino's films up to this point), is said to be set in the midst of the Manson murder spree.