The Day of the Dead in 2017 is actually the days of the dead: October 31 to November 2. But outside of Halloween, how are we supposed to celebrate this unique set of life-after-death days? In Mexico, Dias de Muertos is full of Aztec rituals like face painting, sugar skulls, flowers – a beautifully perverse way of celebrating life.
Now, closer to home, in major cities of the U.S., we wear black, watch "The Walking Dead," listen to Nine Inch Nails, and go to see scary movies all the time – there's nothing else in the theaters, and us urbanites are naturally a tad world weary. And if we really want to scare ourselves, we watch 24 hour cable news – MSNBC and CNN are pretty frightening these days – only to be outdone by that surreal unreal-ity tv show, Fox Fake News.
Or we visit cemeteries – for the breathtaking (literally) grounds, rolling hills, architecture, stone work – and to scare ourselves a little – or a lot. Glorifying death is usually the province of the very young (hence horror movie demographics)– because they're the furthest beings from it that actually have an awareness of it – but adults have better reason for morbid curiousity. We won't go into the cultural associations between death and beauty here – there's too much Shakespeare, Italian opera, Keats and Coleridge poetry, Egon Schiele paintings, punk icons and Rick Owens goth clothing to get into that.
But for a short take, Thrillist.com has just updated a great story they'd done on the "The World's Most Fascinating Cemeteries to Visit Before You Die." Sure, many are in Europe and South America – but closer to home, L.A., N.Y. D.C. and New Orleans also make the funereal cut. "Tombstone tourists," as they call them, visit iconic Pere Lachaise cemetery in Paris to the count of 3.5 of the living every year.
Among the highlights: Pere Lachaise, of course; the most visited cemetery in the world, sports the tombstones – and bones – of Jim Morrison, Oscar Wilde, Chopin, Proust and Modigliani. Highgate Cemetary in London's a garden cemetery built in the 19th century, with gothic tombs covered in ivy – and the bones of Karl Marx. The Merry Cemetery in Sapanta, Romania, features tongue-in-cheek poems on the subjects' vices with illustrations to match – a lighter take on life after death. And my personal favorite is La Recoleta in Buenos Aires, where Eva Peron is buried in a mausoleum mini-mansion – there are 6000 of the ornate afterlife quarters – each about the size of a New York apartment – and much much more aesthetic.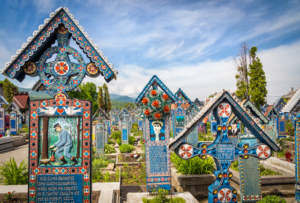 LINK: https://www.thrillist.com/travel/nation/famous-cemeteries-to-visit