For those too young to remember, "The Dick Van Dyke Show" – long before "Friends," "Seinfeld" or "Cheers" – was the definition of the perfect sitcom: it starred the great actor and physical comedian Dick Van Dyke as Rob Petrie, and of course, was the acting birthplace of the phenomenon known as Mary Tyler Moore as Rob's stalwart wife Laura. The set up was this: Petrie is a writer for a hit comedy-variety tv show, and Rose Marie and Maury Amsterdam played his wise-cracking assistant writers – with lines so hilarious, they often stole the show.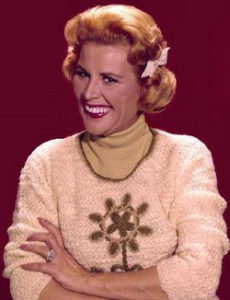 Carl Reiner, who created "The Dick Van Dyke Show," based it on his experience helping to create Sid Caesar's hilarious early tv shows. And Rose Marie's Sally got to do a lot more than be a thorn in his boss's funny bone – she also belted out old standards in nightclub scenes. The long-gone term "broad" was defined by her: unique, ballsy, with a big personality – and someone who did everything on her own terms, creating a one of a kind show business career that spanned many decades. She even tweeted in this last year that she was particularly proud of playing a sit com character who was an early paradigm of the working woman: – not, as she stated, "a wife, mother or housekeeper."
Rose Marie was, in fact, a child star of '20's and '30's. Her real name was Rose Marie Mazetta, born into an Italian family in New York on August 15, 1923. By age three, she was entering child talent contests as a little singer under the name "Baby Rose Marie." That launched her into singing on the radio, and eventually she got her own radio show. She also sang on movie short. Meanwhile – her father worked for Al Capone as his arsonist.
She married trumpeter Bobby Guy in 1946, with whom she had a daughter, Georgina, but he tragically died at age forty eight.
She also performed on "The Dean Martin Show." In the late seventies, Rose Marie joined up with Rosemary Clooney, Margaret Whiting and Helen O'Connell for a nightclub act they called "4 Girls 4." She also appeared on "The Doris Day Show," "Murphy Brown" and was a regular on "Hollywood Squares," and in several films in the thirties. In 2001, she got her star on The Hollywood Walk of Fame. Rose Marie was nominated three times for Emmy Awards
Asked at one point what she wanted her legacy to be, Marie quipped, "That I was good at my job and loved every minute of it."
She died in her bed, at home in Los Angeles. Carl Reiner, who produced "The Dick Van Dyke Show," and appeared on it playing a Sid Caesar like character, said "She was a force of nature."