Welcome to a brand new Obit Magazine feature Paint It Black: for the morbid Goth in all of us, we will offer you a plethora of items – for your home, your car, your drawers, your office, your kids, etc. – that come in our favorite hue: black. Black for death, black for dark, black for intensity, black for royalty, black for sorrow and loss. Whether you reside in or hail from Manhattan – the capital of all things black: because it doesn't show the dirt, it makes everyone look thinner, and it always goes with everything.
My own personal predilection for items that should not be made in black: black sheets. That's right. They tend to shock people, because most people believe all sheets should be white, white, and nothing but while. Just like towels (ha – I've got black ones). I'm not sure I sought out black sheets, back in the nineties, because they were outre' and edgy – morbid – peculiarly womblike – or I believed they'd keep the glaring early morning L.A. light out of my eyes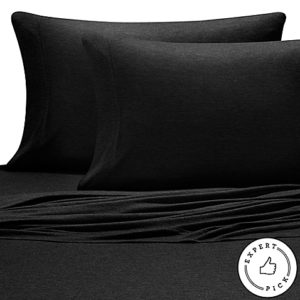 My dark horse personal black sheet favorites are Pure Beech Jersey Knit Modal sheets and pillowcases. They feel just like an old worn out t shirt, but keep their rich hue after a zillion washings. They're as sort as Frette or Pratesi, and the older they get, the better they feel. I now travel with them, keep a set at my boyfriend's – and even buy them as gifts for people. They come in almost every color – even oddball ones like fire engine red – but the black is the only way to go. A set of top sheet and fitted is $69.00, and plilow cases about $50. Bed Bath and Beyond always have them in stock.
Mellani does a wrinkle, fade and stain resistant sheet set that's hypoallergenic – and you got it – in deep deep black. They also come in oddball colors (for sheets) like deep burgundy (for your wine room) and pale violet. $29.70 on Amazon.
Wamsutta does a slightly different kind of black sheet – a black on black damask stripe with a 500 threadcount in pima cotton, or what they call "Pimacott." They also hold color well, won't fade, with extra long dense fibers. $69.00 for a sheet set on Amazon.