Three deaths that did not pass unnoticed this week: An Egyptian movie star, a New Zealand bus driver, and a Baltimore detective.
We won't pretend to know Egyptian cinema, but we do know what it looks like when a beloved star died, and judging by the response to her death, Egyptian actress Shadia fit that description. Even though she hasn't made a movie in over thirty years (when she became a strict Muslim and went into seclusion), hundreds of mourners showed up at her funeral yesterday.  Here's one of her most popular songs, "Aa'la Esh El Hob" or "In Love's Nest," from her 1962 movie, "Wife Number 13." Her co-star, Rushdy Abaza, certainly is taken by it; we think it's pretty cool, too.
While not as famous, Shelly Howard's death reverberated far beyond the bus routes she drove in Wellington, New Zealand. That's because the 63-year-old Howard, who transitioned to female in her 50s after a career in the military, was transgendered, and was loved and respected for living her life unapologetically.  Her sister told the Dominion Post that as part of her effort to help others accept trans people, she would stand blindfolded on a street corner, wearing a button reading, "I can't see you but if you can see me, give a hug." The large turnout expected for her funeral is tribute to her life.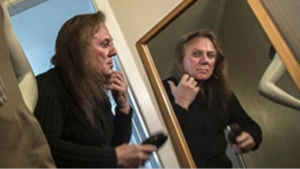 A little closer to home, the Washington Post reports thousands of mourners, including delegations from police departments from around the country, attended the funeral of Baltimore Police Department's Detective Sean Suiter, who was killed while investigating a triple-homicide earlier this month. Suiter, who leaves behind a wife and five children, was the 309th homicide victim in Baltimore this year, and the 138th member of the BPD to be killed in the line of duty.