Even if no one else has noticed, we were "dark" for a days, and not in a good way. If death's contract doesn't include a holiday, there's nothing that say he can't have his off-days. So today we're going to look at death's near misses.
In Glasgow, Scotland, two William Patersons died within a few days of each other. Normally, that wouldn't rate a Times of London story, but although they never came across each other in life, they were almost joined in  death. Both William Patersons died within days of each other, at the same hospital. But while one William Paterson was supposed to go to the David Robb mortuary for burial, the other was destined for cremation at the Glasgow Co-op. Well, the man from the Glasgow Co-op showed up for Mr. Paterson …and you can probably figure out what happened. But it didn't. As we have seen so far, like history, one William Peterson corpse is a tragedy, two is farce;  this story had a happy ending, or at least as happy an ending as you could have when your story involves two corpses.  David Robb arrived to take possession of his Mr. Paterson, realized what happened and rushed to the Co-Op, and got there before his William Paterson—a man he knew in life, so he could identify the corpse—met the other's fiery end.
Rolling Stone's Jann S. Wenner (whose biography was reviewed by yours truly for Bestclassicbands.com  interview with Bono is up on RollingStone.com, and if you've read the book, it's hard to keep a straight face when they discuss Michelangelo's David, and Jann's response is "he's a great beauty"); one of the subjects they get into in Bono's "near-death experience." Of course, Bono has to go and make it Bono-fied, bringing in St. Paul, King David, and Bob Dylan. But those pale in comparison to his thoughts on what it was like to come face to face with the mortality:
I thought it would be inconvenient 'cause I have a few albums to make and kids to see grow up and this beautiful woman and my friends and all of that. But I was not that guy. And then suddenly you are that guy. And you think, "I don't want to leave here. There's so much more to do." And I'm blessed.
He also passes on some sage advice from poet Brendan Kennelly: "If you want to get to the place where the writing lives, imagine you're dead."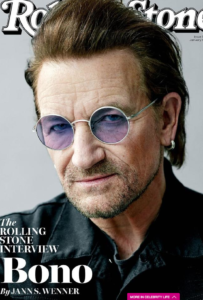 Finally, Fox News reports that Oklahoma, once home to one of the nation's busiest death rows, hasn't killed an inmate for two years, and both Fox and Oklahoma state officials are getting antsy. There are 47 inmates waiting to walk that last mile; sixteen of them have exhausted their appeals, which means the only thing standing between them and the death chamber is that pesky Eighth Amendment…you know, the one that bars "cruel and unusual punishment." And since Oklahoma's bungled executions were viewed to fail that test, they haven't been able to kill anyone. But not to worry, Sooners. Your state officials are working to make sure killings will be done in your name ASAP. Attorney General Mike Hunter  expected more clarity on the state's new lethal injection protocols in the next two or three weeks, after which the state can go back to killing in its citizen's name. "We need to feel some urgency, but we also need to get it done right," he said. "I'd say both of those things are equally important." Nice to know that "getting it right" makes his top two.
He might be off by a couple of weeks, but here's Johnny Cash, singing "25 Minutes to Go":