On January 3, 2014, Phil Everly of The Everly Brothers died at the age of 75. He and his brother Don formed the guitar playing/pop singing duo, both of which were born in Brownie, Muhlenberg County, Kentucky. They signed their first record deal in 1956, and their first single was 1957's Bye Bye Love – a song that had been rejected by 30 other acts! It became the Everly Brothers's first million seller.
They followed up with hits like Wake Up Little Susie, All I Have to Do is Dream, Bird Dog and Problems.
The brothers toured with the legendary Buddy Holly in 1957 and 1958. According to Holly's biographer, they were responsible for persuading Holly and his band to change their outfits from Levi's and t-shirts to the Everlys' Ivy League suits.  After Holly died young in a small plane's historical crash, some sources say Phil Everly was one of Holly's pallbearers in February 1959, Phil said in 1986 that he'd attended the funeral and sat with Holly's family –  but wasn't a pallbearer. Don did not attend at all, saying, "I couldn't go to the funeral. I couldn't go anywhere. I just took to my bed."
After that, however, the Everlys fell out with their music publisher and lost the songwriting team that had penned most of their hits. They never stopped working as a duo, but their last United States top 10 hit was 1962's That's Old Fashioned (That's The Way Love Should Be).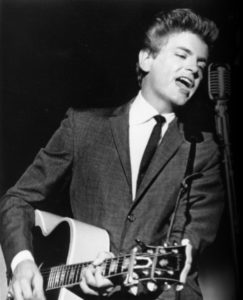 Also passing on January 3 historically are Hilton Hotels founder Conrad Hilton (in 1979 at age 91), and American assassin Jack Ruby (in 1976, at age 55), who killed Lee Harvey Oswald – the assassin of President John F. Kennedy on November 22, 1963. Ruby died of a pulmonary embolism.