Among those who passed to the other side from our planet on December 11 are:
Sam Cooke  (January 22, 1931 – December 11, 1964), the soul musician who brought us such songs as  "You Send Me", "Wonderful World", "Chain Gang", and "Twistin' the Night Away," was known as "the King of Soul" during his short lifetime. Cooke had 30 U.S. top 40 hits between 1957 and 1964, plus three more posthumously. Major hits like "A Change Is Gonna Come", "Cupid"  and "Another Saturday Night" are some of his most popular songs. Cooke was one of the early entrepreneurial musicians who took his career into his own hands: he founded both a record label and a publishing company as an extension of his careers as a singer and composer. He also took an active part in the early Civil Rights Movement. ]
On December 11, 1964, at the age of 33, Cooke was shot and killed by Bertha Franklin, the manager of the Hacienda Motel in downtown Los Angeles, California. After an inquest, the courts ruled Cooke's death to be a justifiable homicide. Since that time, the circumstances of his death have been called into question by Cooke's family. However, a young woman claimed he attempted to rape her, and she escaped – after which he followed her in a rage, and wound up in the office of the manager of the hotel. The story's become myth – and no one really knows exactly what happened. However – a brilliant, velvet and singular voice died that night. At least Cooke manager to get a lot of songs out before then.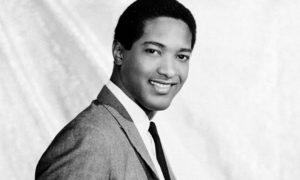 Also departing the planet on December 11 in history were musician Ravi Shankar, an Indian musician with a huge influence on the Beatles and George Harrison (who took up the sitar as a result of watching Shankar), who died at 92; and the famed brunette bombshell pin up girl Bettie Page – a forerunner to the Playboy models of the 70's.