Kevyn Aucoin ((February 14, 1962 – May 7, 2002) wasn't just an important American makeup artist, photographer and author – he's the celebrity and high fashion makeup artist who put being a makeup artist on the map. At a very young age, the budding makeup genius fled his hometown of Shreveport, Louisiana, for New York City – because a man doing womens' makeup at that time was a frowned upon in the south. Aucoin was beaten as a gay youth in the south. Once arriving in New York City, he started to work with major fashion photographer Steven Meisel, with Vogue, and with Revlon, coming up with shades for major cosmetics collections – all of which put his name quickly on the makeup and fashion map.
Yes, there's been a plethora of fashion docs in the last decade: from "Valentino: The Last Emperor" to "The September Issue" – on designers, magazines, models, even shoe designers – but there has not been one on a major makeup artist. That's how loved and admired Aucoin was in the fashion and magazine industries.
Along the way, he grew a huge celebrity clientele for magazine covers, fashion shoots and celebrity portraits: Whitney Houston, Cher, Liza Minnelli, Janet Jackson, Tina Turner, Gwyneth Paltrow and Julia Roberts became Aucoin loyalists – and Aucoin featured them all in his bestselling makeup/art book "Making Faces" – in which he tranformed – via magical makeup – Celine Dion into Maria Callas, Winona Ryder into Elizabeth Taylor and Martha Stewart into Veronica Lake. In 2001, he launched his own line, Kevyn Aucoin Beauty, which now is considered to be one of the most imaginative and fashion-forward brands in beauty.
In September 2001, he was diagnosed with a rare pituitary tumor, and turned to prescription painkillers to deal with the physical pain. By May 7, 2002, Aucoin was dead of kidney and liver failure due to toxicity from prescription pain klllers.
Now his fast but fruitful life of forty years is being celebrated in the new doc "Larger Than Life: The Kevyn Aucoin Story" – playing at the Doc NY festival next week, on November 16. It's making the rounds of the festival circuits right now, but producers are hoping to get a major distributor soon, and we're hoping so, too, since it's a story not just of glamour and success and triumph against adversity: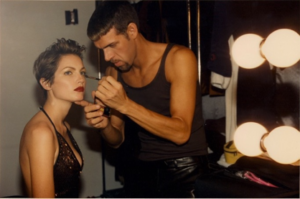 Set amidst the 1990s Supermodel era as well we the rise of Hollywood's red-carpet phenomenon at the turn of the new millennium plus the explosion of the global beauty business, the film depicts Aucoin as the pivotal individual who made beauty a competitive – and lucrative –  high-stakes profession.
This story's revealed through intimate, never-seen-before archival footage and one-on-one interviews with Aucoin's family, lifelong friends and many iconic women in fashion, including supermodels Carol Alt, Naomi Campbell, Linda Evangelista, Kate Moss, Paulina Porizkova, Brooke Shields, Christy Turlington Burns and Veronica Webb. They reveal what set Aucoin apart as a person, a professional and collaborator on photo shoots for Allure, Cosmopolitan, Harper's Bazaar and Vogue.