Coco, the latest animated film from Pixar, takes as its subject the Mexican Day of the Dead, the day when, as the grandmother of our hero, Miguel, tells us, the spirits of the dead are given a day pass out of the spirit world to visit their families. It's enormously respectful to the traditions, explaining them in the context of family and remembrance easy for children not familiar with them will understand, and with enough feeling that it's hard not to . Rendered in beautifully detailed  animation that's full of wit and, no pun intended, life, Coco's energy and invention doesn't fade. The scuffed wood of old guitars, the black-and-white movies of Ernesto de la Cruz (Benjamin Bratt), the story's mariachi superstar, revered by both the living and the dead, and blankets of flowers put out to guide the dead, look gorgeous, And the skeletal dead are comic enough—with bones that attach and detail and reconfigure themselves like tinker-toys—not to be scary. But grafted onto this is a typical Disney/Pixar "quest" narrative. It's not so much that it doesn't take, but that the story is so careworn you can see the gears beneath the luxurious surface. It makes for an unexpected experience: a movie that feels simultaneously respectful and reductive.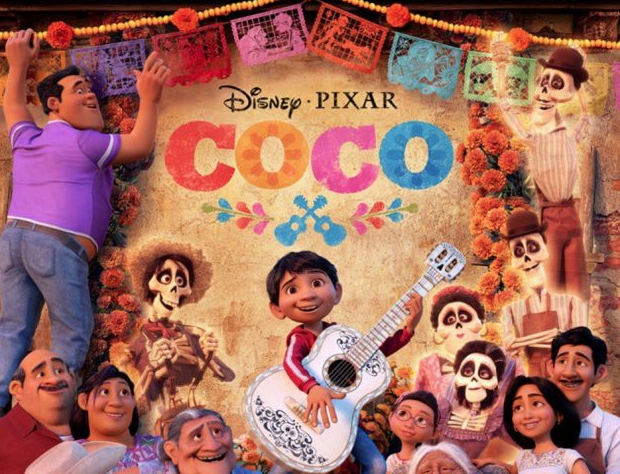 It takes a certain amount of genius to achieve that, and it's a balance they manage to maintain throughout the 90-minute running time. It follows Miguel, a young boy who loves music, but is born into a family that had banned music, ever since a great-great-great grandfather, a musician, abandoned the family to find his fame. On the Day of the Dead, he's caught trying to sneak out to perform in a mariachi contest, and is eventually caught in the Land of the Dead, and searches out de la Cruz—whose catchphrase is "seize the moment"—for help.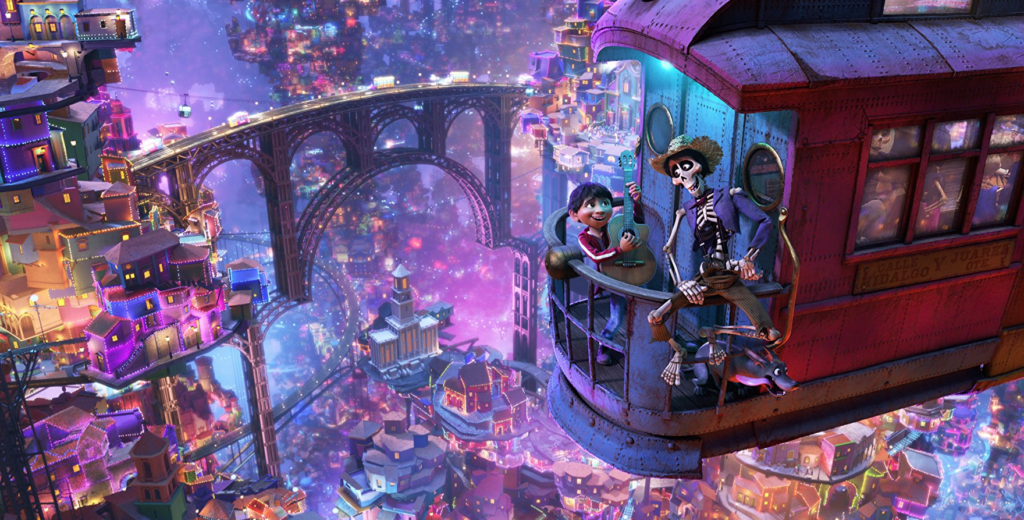 The necropolis is Coco's true tour de force. A dizzying, almost Suessian place with houses built on thin stilts that reach into the heights, the structures, like the dead themselves, built out of bones, with skulls inside of skulls inside of skulls. It's also a bureaucrat's dream, with an efficient border crossing—the dead can only pass into the world of the living if a relative has put their picture (along with an offering) on their altar, and a "Department of Family Reunions." It's there than Miguel's quest becomes clear, and while taking it—evading his family's spirits, accompanied  by Hector, a down-on-his-heelbones spirit who needs to be remembered or he'll die, and a goofy dog, who ends up being a spirit animal—he learns the truth, and lessons about family.
The technical credits, as usual for Pixar, are top-notch.  music is wonderful—the featured tune, "Remember Me," is lovely—and there's a big showpiece that manages to combine Frida Kahlo, Julie Taymor, Busby Berkeley. The voices—especially Bratt, and Gael Garcia Bernal as Hector—are all fine. And.  familiar as it is, the story still manages bring on a tear. For all that, it's still hard not to walk of our Coco and not feel you've sat through a proof of concept for "South of the Border" ride a Disneyland.